aNewDomain
— The sharing economy started with industry leaders like Uber and Airbnb, but today it's disrupting every aspect of society in every part of the world. Since its rise to popularity in 2011, the specific definition and name of this part-time employment, peer-to-peer and trust based exchange phenomenon has been debated. Most are calling it the "sharing economy," some the "on-demand economy," some the "peer economy" or even the "gig economy."
It's ever-present these days. A study (see below) found that half of sharing economy startups today were founded after 2013, and 80 percent were created after 2011.
It's all one effort to describe a movement that the millennial generation, more than any other, has embraced. The sharing economy is hip, cool and allows young people around the world to embrace a part-time, fully connected lifestyle.
Jerry Michalski, founder of the Relationship Economy eXpedition (REX), states "… we are entering an economy of relationships where we need trust and authentic relationships." He sees the sharing economy as a subset of the new "relationship economy."
Erick Mott at Sustainable Brands writes:
According to Michalski … there is a lot of historical mistrust between organizations and people given that the Industrial Age taught us all how to implement and live with systems that were designed for efficiency and scale, rather than personalization. Another way to look at the past – industry designed for mistrust."
The sharing economy brings us closer to the vision of mutual trust and could lead to a new outlook on products and capital pursuits.
JustPark Shows Us The World
New research from UK startup JustPark shows how diverse the sharing economy has become around the world. JustPark itself is a sharing economy startup that allows you to pre-book parking spots.
The company has created a nifty interactive chart covering 864 companies worldwide to display what each company offers within the sharing economy.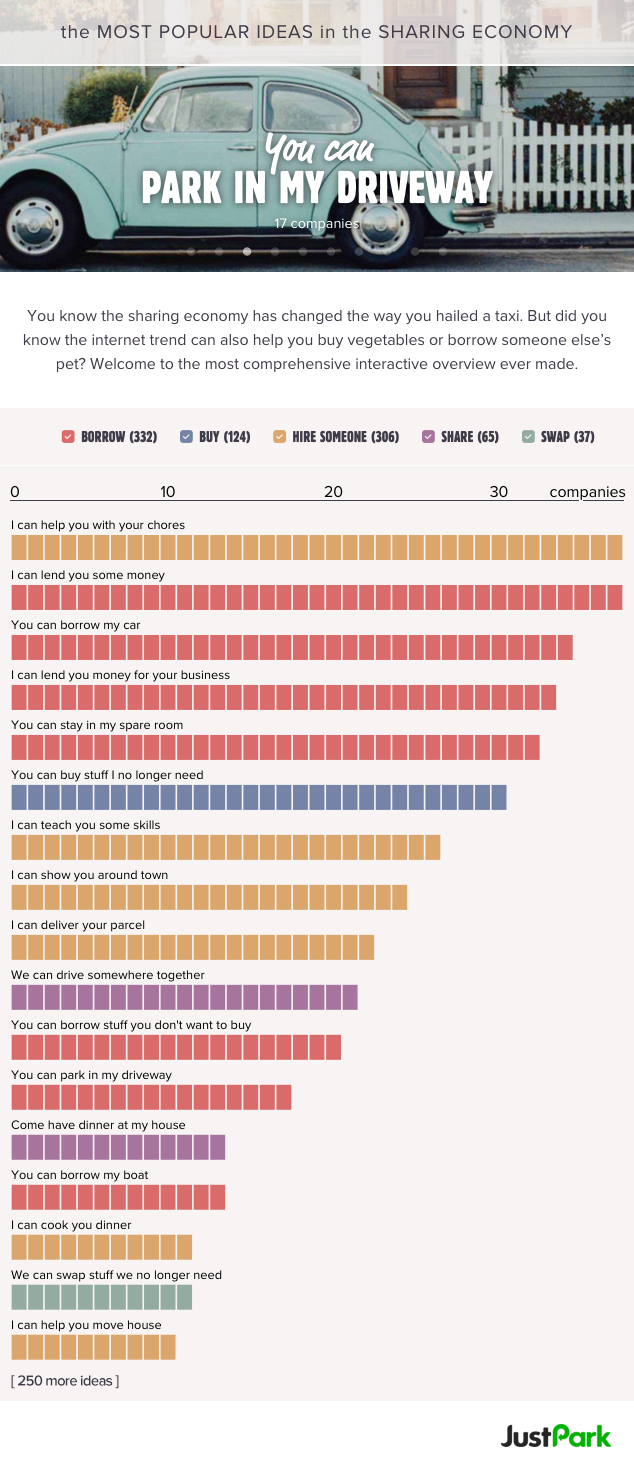 Click image to open interactive version (via Just Park).
The interactive chart is just a sign of things to come. JustPark used information provided by Crunchbase and AngelList to compile data that showed that almost all of sharing economy startups today were founded within the last several years.
The five most popular categories of sharing economy are "buying, hiring, sharing, borrowing and swapping goods."
Alex Stephany, JustPark CEO, states that the sharing economy will continue to grow.
The sharing economy will grow to be pervasive in an even wider array of industries. There are barely any sectors that won't be impacted by the efficiencies of sharing economy and peer-to-peer online platforms."
Uber and Airbnb may be the most well-known, but soon we will be able to get anything we need or want through the sharing economy. Where will that leave you?
For aNewDomain, I'm David Michaelis.
Featured image: Sharing by Ben Grey via Flickr