When I reported that the Superbowl would be streamed for the first time this year via the NFL, I saw it as a milestone on the road to IPTV.
I was encouraged by the Online Super Bowl. That's why I was one of the 2,105,441 people who watched the stream on NBC.COM. I tuned in out of pure investigation — smile — but after watching for a few minutes and taking a few screen shots, I turned my computer off and watched the game on TV. What an improvement.
Credit: Live stream of last Sunday's NFL Super Bowl.
Many would consider that a fail.
NBC reps report that the average veiwer remained online for 39 minutes, backing up my proposition that this livestream just wasn't all that. Certainly, I was not impressed. The action was in a small window surrounded by ads and statistics on a black background. The viewer could switch camera angles by clicking on the insert window on the upper right.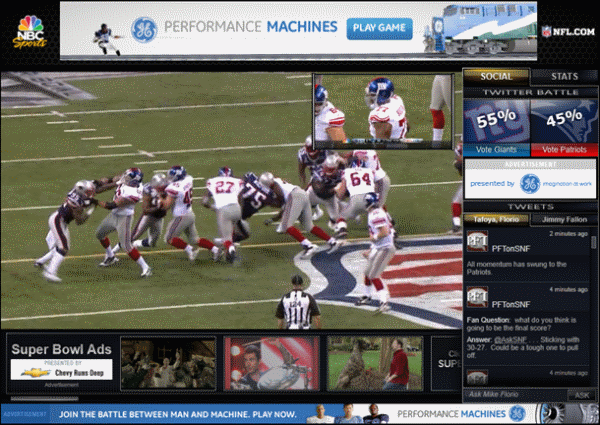 livestream courtesy: The National Football League (NFL), United States last Sunday.
It was too busy and too small for my taste. There were also seemingly constant commercials and other distractions. I did not tune in at the very start, but by the third quarter, the Internet stream was a quarter behind the TV broadcast.
On the other hand, spokesmen for NBC and the NFL talked about record traffic (this was the first time, so traffic is a relevant term applying more to site than stream), and he was rightfully proud of the intensely difficult to choreograph 2M angle switched called live by director, no doubt, by an NBC Sports and NFL director.
Hans Schroeder, NFL, SVP, Media Strategy and Development in a statement called the live stream "a tremendous success." Han was pleased, but Hans, you can do better.
I expected more because I have seen much better live streaming of a sporting event. Perfect example: The basketball game shown below filled my laptop screen and was identical to and only four seconds behind the TV broadcast shown behind it.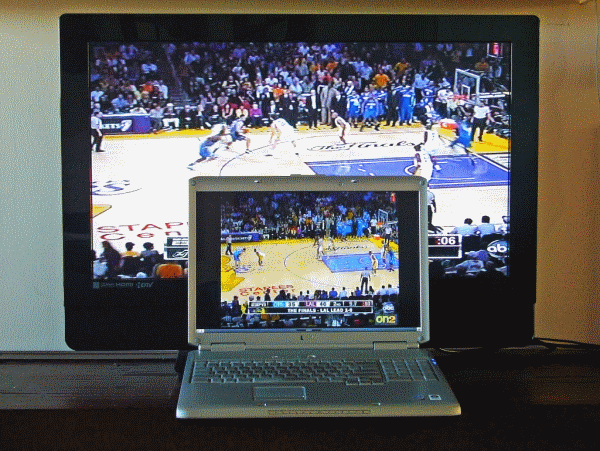 The catch : ) I hear the basketball snap was caught via piracy. Hopefully, this won't recall SOPA/PIPA legislation, a bad memory already.
TV execs might think of pirates as market research consultants who are showing them what the public wants. They should hire them, then. Just as the government hires the best programmers and hackers in the world for encryption reasons. Here at aNewDomain, we know all about that ; )
The distinction between "TV" and "the Internet" is broken — it's all bits.